Carl Bergstrom's and Jevin West's nice syllabus for 'Calling Bullshit'.
|
0 Comments
A 50-minute illustrated talk by James McCormack prompted by Tom Hanks' announcement that he had been diagnosed with Type 2 diabetes.
|
0 Comments
A resource explaining the differences between different trial phases.
|
0 Comments
Ben Goldacre explains why appropriate infrastructure is need to do clinical trials of sufficient rigour and size to yield reliable results.
|
0 Comments
Paul Glasziou uses 28 slides to address 'Applying the results of trials and systematic reviews to individual patients'.
|
0 Comments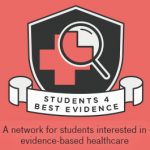 This blog explains 'the mean' as a measure of average; describes how to calculate it; and flags up some caveats.
|
0 Comments
Cartoon about the many different ways of analyzing data
|
0 Comments
A 4-min video explaining the concept of confidence intervals and how they are calculated, with helpful diagrams and examples.
|
0 Comments
Keith Bower's 3-min video explaining how means (averages) and medians can be presented misleadingly.
|
0 Comments
Cartoon and blog about how averages can hide important variations in effects.
|
0 Comments
Jargon buster
About GET-IT
GET-IT provides plain language definitions of health research terms